Great looking, long-lasting paint job. Guaranteed !℠
Do You Have A Painting Project We Can Help With?
House Painting Contractor
Classic Shades Painting is a full service painting contractor that specializes in high quality interior and exterior house painting and waterproofing. Voted one of the top 10 Best Painters in the Bay Area, this company is well known for its quality of work and its approach to customer service .
All our employees are journeyman-level painters, but to improve upon their technical skills and to keep it current, we also have an in-house continual training program.
The company owner Yefim Skomorovsky is a master painter with over 40 years of experience. He is a graduate of two accredited house painting apprenticeships, in both European and American painting technique. Yefim founded the company in 1985. Today he still personally supervises each our painting crews.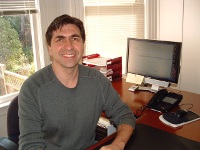 "Customer care and satisfaction is at the very core of our business philosophy. We accomplish this by superior customer service, high quality workmanship and the use of top grade painting materials.
In my travels, I often see painting jobs failing prematurely because another painter skimped on surface preparation or otherwise cut corners to make a quick buck.
Our philosophy is based on the belief that you reap what you sow. I get a real thrill when a client, perhaps whose house we had painted 10 or 15 years ago, calls us for yet another paint job. I am happy because this proves to me that we got it right."
-Yefim